You are here: Home > Publications
Welcome to Our Publications page. Here you will find useful documents such as newsletters and briefings and some or our corporate documents.
Annual Report
We are pleased to share our Annual report which showcases the work we have undertaken during 2021/22. - click the image to download our report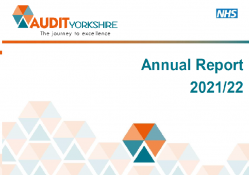 Organisational Statements

Newsletters and briefings
Counter Fraud Newsletter
The Counter Fraud Newsletter is published every month and focuses on fraud risks that NHS staff may encounter at work and at home. Each edition looks at current scam trends and cyber enabled fraud risks, alongside practical advice on how to avoid falling victim to fraudsters. The newsletters also feature links to national and local press coverage of fraud convictions, information on how to access fraud prevention training, and advice on how to report concerns.
Counter Fraud Newsletter April 2022
Counter Fraud Newsletter May 2022
Counter Fraud Newsletter June 2022
Counter Fraud Newsletter July 2022
Counter Fraud Newsletter August 2022
Counter Fraud Newsletter September 2022
Counter Fraud Newsletter October 2022
Counter Fraud Newsletter - November 2022
Client Briefings
To help support client learning, Audit Yorkshire issues briefings and best practice guidance. See below our most recent briefings (click on the image to download):
Salary Overpayments                                Cyber Security                                       MS Teams