Winter Charity Project
Audit Yorkshire recognises the importance of social value and how we, as employers, have a duty of care not just to our staff and clients but to the wider public.  To deliver social value, we have committed to raising money for and being involved with local and international charities throughout the course of the year. 
This year for our 'Winter Charity Project' we decided to support local charities in providing help to those in need over the challenging winter period. In a change from the fundraising we've been involved with previously, the team has contributed food items, toiletries and clothing which will help homeless people and those people in crisis.
The food items and some toiletries were donated to both the York Foodbank and the Batley Foodbank which provide emergency food supplies and support to local people who are referred by local councils.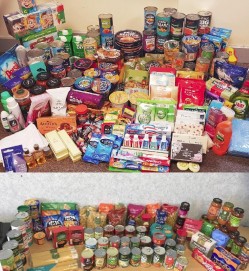 We donated the clothing and remaining toiletries to the Early Intervention and Prevention (EIP) Team and the Huddersfield Mission.
The EIP Team are part of The Salvation Army's Homelessness Services, and play an integral part in the City of York's 'No Second Night Out' scheme. In addition to providing care packages to the homeless, they operate 21 emergency beds during severe weather periods and provide individuals with a pack of essentials when they arrive.
Huddersfield Mission operates in West Yorkshire and provides essential provisions to those in need and the homeless throughout the year, but especially during the winter period.
If you would be interested in donating any items I am sure all organisations would be thrilled to hear from you…or why not check out charities in your local area?